Esta es la segunda canción que publiqué en cbblog.net. The new kid in town, tienen una muy bonita melodía entre country y balada rock.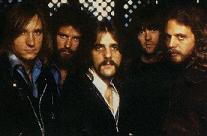 En 1971 Glenn Frey, Don Henley and Randy Meisner, hicieron un tour con la banda de Linda Ronstadt buscando el comienzo de otro grupo, el cual ellos finalmente llamaron Eagles. Luego invitan a los músicos Bernie Leadon (cuerda) y Randy Meisner (bajo) a participar en el grupo. Y ellos se les unieron posteriormente Joe Walsh (guitarra y coros), Don Felder (guitarra) y Timothy B. Schmit (bajo).
The Eagles tocan música estilo country y pop-rock. Se separaron en 1980, pero se volvieron a juntar en 1994.
LYRIC
There's talk on the street, it sounds so familiar.


Hay murmullos en la calle, suena tan familiar.


Great expectations, everybody's watching you.


Gran espectativa, todos te estan mirando.


People you meet they all seem to know you,


La gente que encuentras parecen todos conocerte


Even your old friends treat you like you're something new.


Aún tus viejos amigos te tratan como si fueras alguien nuevo

 

Johnny-come-lately, the new kid in town,
Johnny llegó hace poco, el nuevo chico del pueblo,
Everybody loves you, so don't let them down.
Todos te adoran, así­ que no les falles

You look in her eyes, the music begins to play.
Tu miras en sus ojos, la musica comienza a tocar.
Hopeless romantics, here we go again.
Los románticos sin esperanza, aqui vamos otra vez
But after a while you're looking the other way
Pero después de un rato ves de otra manera
It's those restless hearts that never mend.
Esos corazones inquietos que nunca se componen

Johnny-come-lately, the new kid in town,
Johnny llegó hace poco, el nuevo chico del pueblo
Will she still love you when you're not around?
¿Todaví­a te amará ella cuando tú no estés por aquí?

There's so many things you should have told her
Hay tantas cosas que tú deberías haberle contado
But night after night you're willing to hold her,
Pero noche tras noche estás dispuesto a abrazarla
Just hold her tears on your shoulder.
Solo sostenle sus lágrimas en tus hombros

There's talk on the street, it's there to remind you
Hay murmullos en la calle, esto es para recordarte
That it doesn't really matter which side you're on.
que en realidad no importa de qué lado estés
You're walking away and they're talking behind you.
Tú te vas y ellos están hablando detrás de tí.
They will never forget you till somebody new comes along.
Ellos nunca te olvidarán hasta que alguien nuevo venga.

Where you been lately? there's a new kid in town.
¿Dónde estuviste últimamente? Hay un nuevo chico en el pueblo.
Everybody loves him, don't they? now he's holding her
Todos los adoran, no? Ahora él la está abrazando
And you're still around, oh my my.
Y tu sigues por ahí.
There's a new kid in town,
Hay un chico nuevo en el pueblo.
Just another new kid in town.
solo otro chico nuevo en el pueblo.

Oo-hoo, everybody's talking about the new kid in town.
Oo-hoo, todos estan hablando acerca del chico nuevo del pueblo
Oo-hoo, everybody's walking like the new kid in town.
Oo-hoo, todos estan caminando como el nuevo chico en el pueblo
There's a new kid in town I don't want to hear it
Hay un chico nuevo en el pueblo, no quiero oirlo
There's a new kid in town I don't want to hear it
Hay un chico nuevo en el pueblo, no quiero oirlo
There's a new kid in town
Hay un chico nuevo en el pueblo
There's a new kid in town
Hay un chico nuevo en el pueblo
There's a new kid in town everybody's talking
Hay un chico nuevo en el pueblo todos estan hablando
There's a new kid in town people started walking
Hay un chico nuevo en el pueblo, la gente comienza a andar
There's a new kid in town
Hay un chico nuevo en el pueblo
There's a new kid in town
Hay un chico nuevo en el pueblo
Posts Relacionados