Acabo de ver el mail de la confirmación para participar en la Feria Internacional del Libro 2006 en "Blog to be wild: primeras jornadas sobre la cultura de expresión en lí­nea".
Y segun el Calendario de Eventos ya es oficial y definitivo.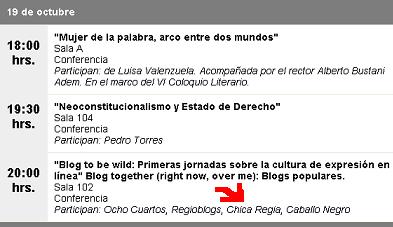 Resulta que este año, va a ver una serie de conferencias, en donde el tema principal es referente a los Blogs; me pareció excelente; además habrá talleres donde se impartiran pláticas y lecciones para crear tu blog.
En Blog to be wild podrán consultar a detalle los por-menores de estos eventos referentes a los blogs.
Durante una semana habrán diferentes mesas de discusión, tales como:
Sweet blog o"™ mine: El blog para el escritor en formación
Lunes 16 de octubre a las 8pm (Sala 101)
Participantes:
Luis Valdez-http://ciudadmascota.blogspot.com
Gabriela Torres-http://not-ok.blogspot.com
Jennifer ídcock-http://jennivora.blogspot.com
Daniel Espartaco-http://espartaco.blogsome.com
De noche soy tu caballo-http://denochesoytucaballo.blogspot.com
Crazy little thing called blog: Otras miradas a los blogs
Martes 17 de octubre a las 8pm (Sala 102)
Participantes:
Lula Beth – http://lulabeth.wordpress.com
Ricardo Cucamonga http://www.perravida.com
Pinche Búho-http://pinche-buho.blogdrive.com
Moisés Kirsch-http://www.moiblog.com
And I just can"™t blog enough: El blog para la información
Miércoles 18 de octubre a las 8pm (Sala 101)
Participantes:
Sergio Tellez Pon – http://tellezpon.blogspot.com
Juan Antonio Zertuche (Goleech) – http://goleech.nmty.org
Issa Villarreal (weshallbefree y nmty) – http://musica.nmty.org
Puny (The Puny Experience) – http://thepunyexperience.blogspot.com
Blog together (right now, over me): Blogs populares
Jueves 19 de octubre a las 8pm (Sala 102)
Participantes:
Eduardo DMZ(Ocho cuartos) – http://www.ochocuartos.com
Dr. Alan Flores(Regioblogs) – http://www.regioblogs.com
Grecia(Chica Regia) – https://www.chicaregia.com
Jorge C.(Caballo Negro) – http://caballonegro.blogspot.com
Blog me all night long: Literatura en el blog
Viernes 20 de octubre a las 8pm (Sala 105 y 106)
Participantes:
Félix Beltrán – http://www.elgeney.blogspot.com
Alberto Chimal – http://lashistorias.com.mx/blog/
Dulce M. González – http://www.ficticiablog.blogspot.com
En el tí­tulo puse un ¡Vamos! de invitación, recuerden que la entrada es libre y estan cordialmente invitados.
Posts Relacionados