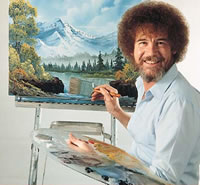 Bob Ross (29 de octubre de 1942 – 4 de julio de 1995) se hizo famoso por su programa de televisión "The joy of painting" (El placer de pintar) donde enseñaba a los televidentes a pintar en óleo diferentes escenas de naturaleza. Su programa se transmitió desde 1982 hasta 1995. Fue miembro de la fuerza aerea en Florida y Alaska. En Alaska fué donde aprendió a pintar como hobby con una persona llamada Bill Alexander y también fué ahí­ donde se inspiró en sus paisajes para sus cuadros. Se ganó muchos fans, inclusive fans que no pintamos mas que bolitas y palitos. ¿A poco no recuerdan pinturas como éstas que hací­a en la TV? Super bonitas y rápidas.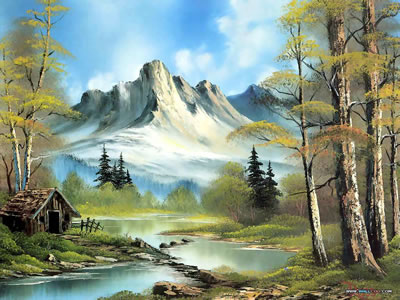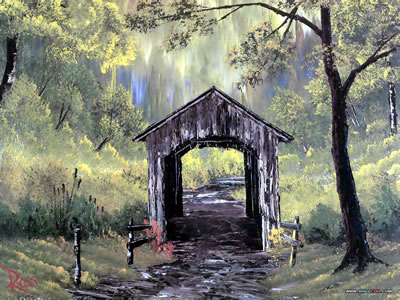 Más imágenes las pueden
ver aquí­
.
Como homenaje a Bob Ross, dejo sus 10 básicos que nunca podí­an faltar en su programa.
1-Su icónico estilo de cabello afro.
2-El caracterí­stico doblaje al español, donde no siempre concordaba la traducción con lo que decí­a Bob Ross originalmente, ya que podí­as escuchar la voz suave de Bob Ross en el fondo.
3-Siempre al inicio del programa aparecí­an con marquesina, los colores que utilizarí­a con nombres muy elaborados.
4-Su técnica era rápida, hací­a los cuadros en menos de 30 minutos, lo que duraba el episodio.
5-Mientras hacia sus cuadros siempre hablaba que todo era fácil, divertido y hermoso; además hací­a ruiditos y reí­a. Hací­a maravillas con su "viejo pincel de abanico".
6-Sus cuadros siempre eran de mares o bosques con montañas, lagos, rios y cabañas.
7-A veces una ardilla aparecí­a en los episodios.
8-Cuando se referí­a a los áboles les decí­a: "Arbolitos felices" (happy little trees) y cuando se referí­a a montañas les decí­a: "montañitas bonitas" (pretty little mountains).
9-Cuando se referrí­a a errores decí­a: "Accidentes felices" (happy accidents) y a veces tapaba parte de la pintura que habí­a creado con otros trazos más cercanos y felices.
10-En el final de sus episodios siempre decí­a "Felices Trazos" (Happy painting).
Video de The joy of painting by Bob Ross
Y algo más que no podí­a olvidar es la parodí­a que le hací­a Eugenio Derbez llamándose Bob Atroz, que hací­a que me doblara de la risa.

Actualmente en su web bobross.com pueden conseguir todo tipo de materiales para pintar, libros y videos tutoriales de su marca.
Tambien si quieren pintar en Photoshop como Bob Ross, chequen este link.